June 2017: EDNA IN THE DESERT is proud to be on new reading lists alongside time-honored classics. 
Hope students enjoy their summer reading!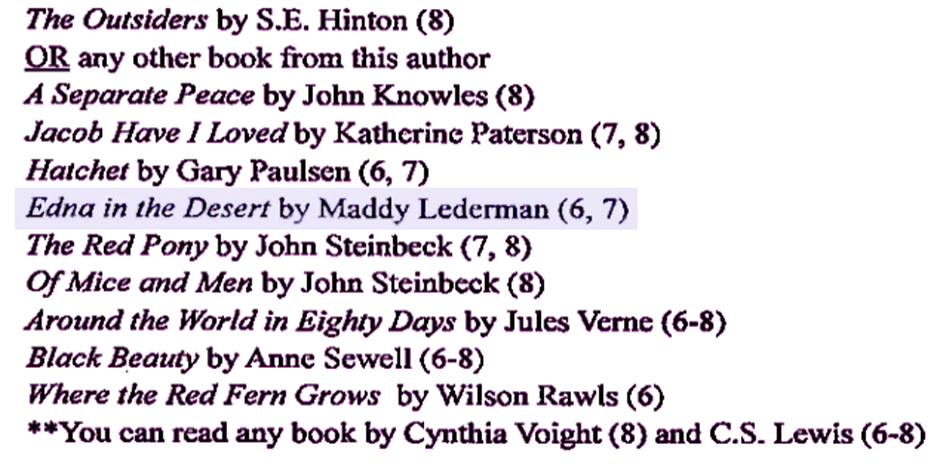 Can a Beverly Hills teen survive without a smart phone, Internet, and TV?  Edna will find out.
 Edna is thirteen, spoiled and wreaking havoc at her Beverly Hills school. Her therapist advocates medication, but her parents come up with an alternative cure: Edna will spend the summer in the desert with her grandparents.
Their remote cabin is cut off from cell phone service, Internet and TV. Edna is determined to rebel until she meets an older local boy and falls in love for the first time. How can she get to know him from the edge of nowhere?
EDNA IN THE DESERT
is on the following reading lists:
Get Schooled: "Books That Prove Growing Up Isn't Easy"
Westbury Library's Teen Friendly Ebook List 
English Honors 9 Summer Reading, Carle Place High School, NY
Carrie Palmer Webber Middle School, NY 
6th and 7th grade Summer Reading, Holy Trinity Regional, NY
6th and 7th Grade Summer Reading, Holy Angels Catholic School, NJ 
Neshaminy High School, 10th Grade Summer Reading, PA
"Classics to Contemporary" List, Emerge Home School Program, MT
7th Grade Q4 Reading, Copper Mountain Middle School, UT
Mater Dolorosa Junior High Summer Reading List, LA
8th Grade Summer Reading, The Royal West Academy, Quebec, Canada
Bonnyrigg High School, Bonnyrigg, Australia
Modern Literature Reading For High School, Weebly.com